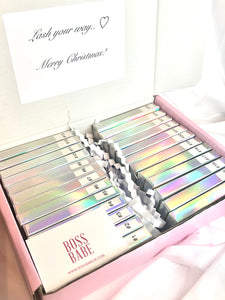 BOSS BABE ❄️ 25 Lash Day Advent Calendar ❄️
Make this Christmas Special ✨
Whilst counting down the days with our
BOSS BABE Christmas Exclusive! 
✨❄️  25 Lash Day Advent Calendar! ❄️✨
A Lash a Day! Why dont you lash it your way...
MERRY CHRISTMAS 🎄
Get yours now! You don't want to miss out 😉
Perfect for a gift for your loved ones or have it for yourself 🤍✨
Packaging colour may vary, picture is illustration only. Items remain the same as described.